Orthodontics

in Cinco Ranch

Orthodontics encompasses a suite of treatments designed to correct the position of teeth. Many of us aren't born with naturally perfect smiles, but orthodontic treatment can be used to fix alignment issues and leave beautiful, straight teeth. At Cinco Ranch Smiles & Braces, we provide two main types of orthodontics: conventional braces and clear aligner therapy. If you are interested in straightening your smile, we invite you to set up a consultation at our practice so we can help determine which one is best suited to your dental needs.
schedule a consultation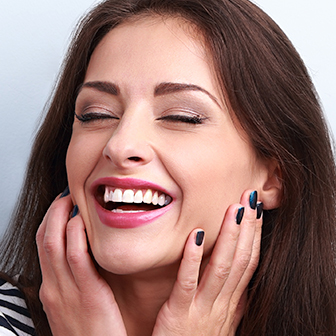 Reasons to Consider Orthodontics
Orthodontics are a way for adults and teens to achieve smiles that are not only more attractive, but also healthier too. Straighter teeth can help boost your self-confidence and are easier to keep clean, since there are fewer places for bacteria to get trapped in.
Considering getting braces or Invisalign? These are some of the main reasons you might want to pursue orthodontic treatment:
You have crowding (there is not enough space in your mouth for your teeth to fit properly).
You have gaps between your teeth.
You have an underbite, overbite, crossbite, or open bite.
You have a misplaced midline (when the center of your upper front teeth doesn't align with the center of your lower front teeth).
The alignment of your teeth makes it difficult to chew properly.
The alignment of your teeth causes jaw pain.
The alignment of your teeth has put you at higher risk for decay and gum disease.
Types of Orthodontic Treatments
Orthodontic treatment can be split up into fixed appliances and removable appliances. An example of the first would be traditional braces while an example of the second would be clear aligners. Both have their own approaches and advantages when it comes to straightening teeth.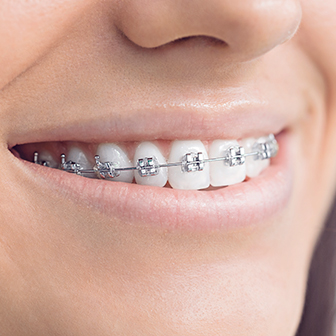 Metal & Ceramic Braces
Braces use a combination of wires, brackets, and bands that slowly add pressure to teeth to move them into a specified direction. Modern braces are sleeker than they used to be, and they're also more comfortable for patients to wear. We provide metal braces as well as ceramic braces, which are tooth-colored so they blend in with your smile more seamlessly.
Capable of correcting even severe misalignment
More affordable compared to other alternatives
Customizable brackets for a unique personal touch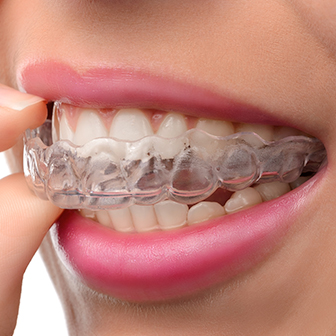 Invisalign® Aligner Therapy
Aligner therapy is a treatment process involving a series of virtually invisible aligners, which look similar to a mouthguard or retainers. Each aligner is molded to fit your teeth specifically and designed to get you closer and closer to your end goal.
Barely noticeable for an attractive smile throughout treatment
Completely removable for easy eating and brushing
Made from smooth plastic for increased comfort